General
ARD series intelligent motor protector (hereinafter referred to as protector) can perform various conditions such as start timeout, overload, phase failure, unbalance, underload, ground/leakage, blockage, short circuit and external fault during motor operation. Protection, and SOE fault event recording function, convenient for on-site maintenance personnel to find the cause of the fault. Suitable for coal, petrochemical, smelting, electric power, ships, and civil construction. The protector has RS485 remote communication interface, DC 4 ~ 20mA analog output, and PLC, PC and other control machines form a network system. Remote monitoring of motor operation.
Features
● Measurement functions are divided into basic measurement (current parameter) and co-selection measurement (voltage, power, phase sequence, residual current (leakage current);
● Start timeout, overload, stall, block, underload, phase failure, unbalance, residual current (ground/leakage), temperature, external fault, phase sequence, overvoltage, undervoltage, underpower, overpower, tE time Motor comprehensive protection function;
● 9-channels DI passive dry node input, signal power supply with built-in DC24V power supply;
● 5-channels DO output, which can meet the direct start, star-delta start, autotransformer start, soft start and other starting modes. Real-time remote control "start/stop" operation of the remote master station can be realized through the communication bus;
● It has standard RS485 communication interface and adopts Modbus-RTU and Profibus-DP communication protocol to ensure fast and reliable communication of the host computer;
● It has a DC4-20mA analog output interface and is directly connected to the DCS system to monitor the field devices.
Technical Parameters
Function

Wiring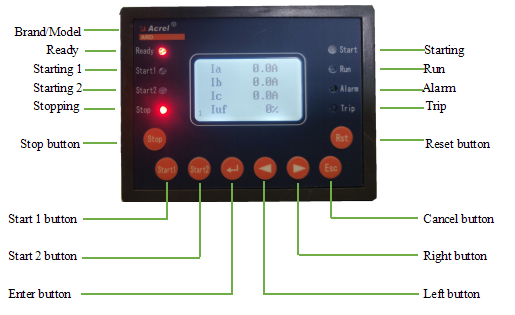 Typical connection